UNSINKABLE FLOATING SUNGLASSES
Ride the Waves, See the Sea Clearly!
Say goodbye to lost sunglasses forever. Designed with full buoyancy, they'll float right on the water's surface if you happen to drop them. So go ahead, dive into your next water sports escapade, enjoy that boat ride, or play with kids in the pool all day—these sunglasses will stay with you, literally. With cutting-edge polarized lenses and UV 400 protection, you're not just getting style; you're also ensuring your eyes stay protected. Take the plunge and make your water adventures cooler than ever!
Dive into the world of water sports with Platinum Sun's tailored sunglasses collections - Floating Polarized Sunglasses and Sports Polarized Amphibia Sunglasses. Designed for the adventurous spirit, our sunglasses ensure that your focus remains on the thrill and not on keeping them safe.
Our Floating Polarized Sunglasses are your trusted companion for all your water adventures. Whether you're paddleboarding, jet skiing, or simply boating, these sunglasses will stay afloat. Enhanced with REVO coating and UV 400 protection, they offer crisp and clear vision, safeguarding your eyes from the glaring sun. The lightweight design and compatibility with our long silicone rubber strap make them an essential accessory for any water enthusiast.
Platinum Sun's Sports Amphibia Sunglasses are crafted for those who crave high-impact water sports. Fitted with a double-injection frame, polarized lenses, and UV 400 protection, these sunglasses are the epitome of durability and clarity. The adjustable design, including an extreme-sports strap and ergonomic padding, offers a secure and comfortable fit. They are your ideal partner for water sports, boating, or beach activities.
Platinum Sun sunglasses stand out for their unique blend of style, functionality, and comfort. Get ready to experience the waves with a pair of sunglasses that truly understand your water sports needs.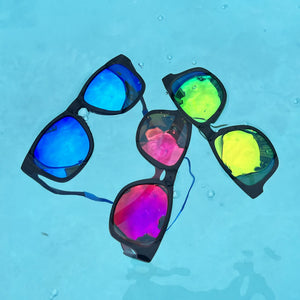 Get more than you expect
Lifetime Warranty
We proudly offer a Lifetime Warranty on every item. Because we believe in our products, so you can too
Learn more