Rash Guards - Rash guard for men
SAY GOODBYE TO RIDE-UP RASH GUARDS !
Platinum Sun rash guards for men and women are crafted with the needs of water sports athletes in mind. Our longer length and sleeves, along with the rubbery strip on the bottom, ensure a secure fit and unbeatable protection against rashes and sun damage. With no ride-up, you can focus on your performance with complete comfort and confidence.
What is a rash guard?
Rash guards were originally made almost exclusively for men. A men's rash guard was designed like a slick T-shirt that prevented rashes resulting from surf wax or firm wetsuits.
Now rash guards for men and women usually have different tailoring, although they serve the same purposes. Rash guards are becoming increasingly popular outside of water sports too.
What is the difference between a rash guard and a swim shirt?
A rash guard is designed to protect against rashes from water sports and from sunburn. Many men's rash guards offer compression properties for better endurance during demanding sports.
They are made to stay in place and reduce abrasion. Meanwhile, swim shirts for men are only designed for swimming and sun protection. Some people prefer the looser fit when not doing a water sport.
The best swim shirts for men also guarantee a high UPF for sun protection. Someone could wear a swim shirt surfing or a rash guard for swimming, but they do have different purposes.
Why does Platinum Sun have the best rash guards?
Platinum Sun's rash guards have superior design and quality. Cool colors and prints will have your buddies asking where you got it. The rash guard can be kept in place with an anti-glide silicone strip with a rubbery texture or a fastener for board shorts.
With a UPF of 50+ and a quick-drying polyester and spandex blend, the material is among the best produced. Full sublimation ensures the designs won't fade. What more could one want in a men's rash guard?
How is a rash guard supposed to fit?
Rash guards for men should be tight. It's not a good idea to have the sleeves or bottom flapping around during water sports. Some people also like to compress their muscles more to minimize fatigue and loss of energy. Your arms should still have a full range of motion at the shoulder, however. They don't have to be tight, but you don't want it too loose.
Why do boys wear rash guards?
Boys wear rash guards for water sports like surfing, bodyboarding or wakeboarding. They might want to wear one just because they're cool. A boy can wear a small men's rash guard if it fits. Girls wear rash guards too, and there isn't much distinction between them until the teenage years, and only then in some cases.
Parents love putting them on kids to avoid back-and-forth sunscreen struggles. However, rash guards are becoming increasingly popular with people of all ages. Since problems like allergies or skin damage can result even when wearing sunscreen, it can be easier just to cover up. Some people just don't like the feel of sunscreen, the hassle or feeling exposed.
Rash guard - comparison chart
Platinum Sun's rash guards are similar in their form and function. They have similar features like being UPF 50+ and having full sublimation. All rash guards should fit tightly. The thicker the fabric is, the tighter the rash guard will feel when worn. However, the rash guards differ because each collection represents the vision of a different designer. The collections may also vary in terms of the cut of the neck, the composition of the fabric and other small features, which are displayed on each product's page.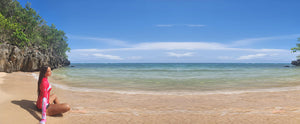 Get more than you expect
Lifetime Warranty
We proudly offer a Lifetime Warranty on every item. Because we believe in our products, so you can too
Learn more